Here's What A Commercial Interior Designer Can Do To Revamp Your Commercial Space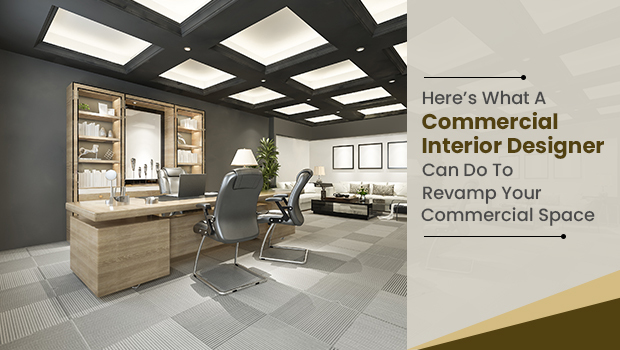 Commercial interior designing is the art of enhancing the appearance and feel of any commercial space by blending practical architecture with aesthetic features. Retail stores, offices, clinics or hospitals, cafés, and restaurants are all examples of commercial space.
To achieve their objectives, every commercial space has a unique interior design requirement:
A well-designed space in a retail store is more appealing to customers, increasing footfall and encouraging customers to spend more time exploring the products

When it comes to office space, a

commercial interior designer

might be required to create a theme that reflects the company's image

A restaurant's interior designing might be done to match the cuisine's regional décor

Similarly, a cafe's interior designing may be done to give a casual, youthful and vivacious vibe to the visitors   

A hospital or clinic may require interior designing by a

commercial interior designer in Navi Mumbai

to enhance the functionality and overall look 
At SpaceEdit Studio, we provide customized commercial interior designing services that are tailored to your specific requirements and budget. Our finest commercial interior designers have a unique perspective and approach to come up with a superb strategy to structure your commercial space's interior design.
Types Of Commercial Interior Designing
An outstanding interior always reflects the interior designer's skilled touch as well as the client's sentiments and preferences. With our commercial interior designing services, your commercial space will reflect your business image.
Office Interior design is further subdivided into interiors for MNC, Small and Medium-sized Enterprises, and start-up offices. 
Communication inside a company is influenced by space layout. The office interior design varies depending on the size and working style of the organization.
 A co-working space, for example, would be designed with a courtyard feel to give a vibrant environment to the users. It would be divided differently from an MNC's office by an office interior designer. 
Of course, the company's products and services will be another important aspect of the interior design style of an office.
Retail Store Interior Design
The aesthetics, color scheme, and product display are important for drawing customers into the store. Interior design is equally important in creating a good storefront. Shop interior designers may use different types of lights like ambient lights, task lights, accent lights, and so on to make the interior of the retail store/ showroom more appealing.
Aside from creating an appealing dining atmosphere, the challenge for restaurant interior designers is to come up with new ways for the restaurant or cafe.
Because the business wants to stand out from its competitors while maintaining a consistent brand throughout all of the company's other outlets if any. 
Also, the interior design must be able to serve the restaurant or cafe's commercial objectives and budget.
Any business's success may be determined largely by its commercial design. Only through attracting and retaining more consumers can shopping malls, restaurants, and other customer-centric commercial structures generate more money. 
A worn-out and crowded space with poor lighting and limited walking space is certain to make customers uncomfortable, driving them to avoid coming back.
Likewise, offices and workspaces must be built in such a way that employees remain calm and agile. Employees may lose patience and productivity as a result of a darkly lit workplace area with faded wallpapers or excessive décor items.
Ideas To Scale Up The Commercial Interior Design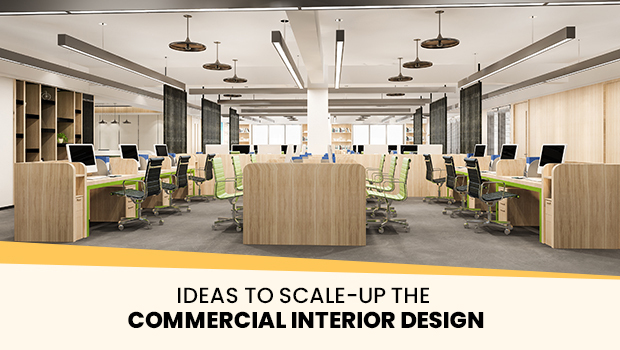 Various commercial interior design ideas may be used to produce excellent outcomes in any commercial space. Let's have a look at some of these ideas for business buildings:
Structures That Are Adaptable
When it comes to the structural aspects of a commercial interior, keeping them adaptable is the simplest approach to ensure that any interior space may be converted. 
It might include the effortless movement of furniture, equipment, and other furnishings. This technique may be used in a variety of commercial settings, including retail stores, restaurants, and offices.
Keep Your Aesthetics Up To Date
No matter how functional it is, a dull, boring, and unfurnished interior space can never give off a pleasant feel. As a result, commercial interior design firms should also include interior aesthetics. 
The interior of an office may be improved by adding specific convertible sitting, lounging, or lunch rooms that can creatively employ trendy office decor ideas. This will make the workplace entertaining, utilized, and elegant without damaging the building's basic structures.
Consider Technology Implementation
In today's world, technology plays an important part in designing the interior space of commercial space. Technology is used by retail enterprises and all other business undertakings for communication, operations, and sales. 
A commercial space requires the perfect placement of technical systems. Computer networking, telephones, television, and media players are all things to be considered. In addition, a well-thought-out strategy for implementing centralized or decentralized digital control systems is always required.
SpaceEdit Studio will provide you with a solution for commercial interior design that is safe, sound, useful, and aesthetically pleasing. We provide commercial interior design services in Navi Mumbai and come up with a dependable, contemporary, one-of-a-kind, and profitable commercial space designs for your office, restaurant, clinic, or retail store.