7 Super Cool Wardrobe Ideas For Kids' Room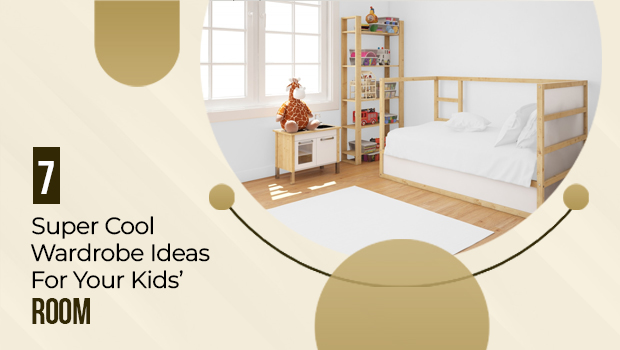 Designing a kids' room can be a great deal of fun, but it also presents some unique challenges. A child's bedroom should be the one place in the entire world where they feel most relaxed and at ease.
The key to the perfect kid's bedroom design is a well-thought-out wardrobe design that can handle all of the kid's storage requirements.
SpaceEdit Studio is here to help you in selecting the perfect wardrobe for your kids' bedroom, so you can finally get rid of that enormous chest of drawers and make room for a more fun environment for the kids.
That's why our creative kids' room interior designers have come up with some interesting and cool ideas for kids' wardrobe designs. Stay on the ball!
Wardrobe Design Ideas Straight Out Of A Fairy Tale
In this blog further, we will show you how to create an awe-inspiring child bedroom cupboard design that will make your kids jump with delight!
1. A Splash Of Colors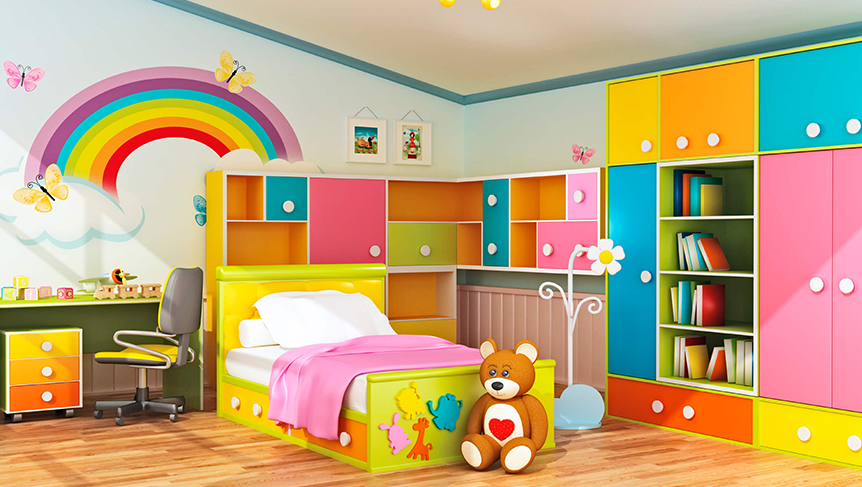 Colors are a big hit with the young ones! However, while the modern ideal wardrobe comes with minimal design and features subtle shading, a splash of color can never go wrong in kids' rooms.
Kids tend to be drawn to bright, vivid colors like baby blue, red, bubblegum pink, and yellow. If those hues already overwhelm the wall decor, try a wardrobe in a lighter shade to break up the monotony.
2. Cartoon Characters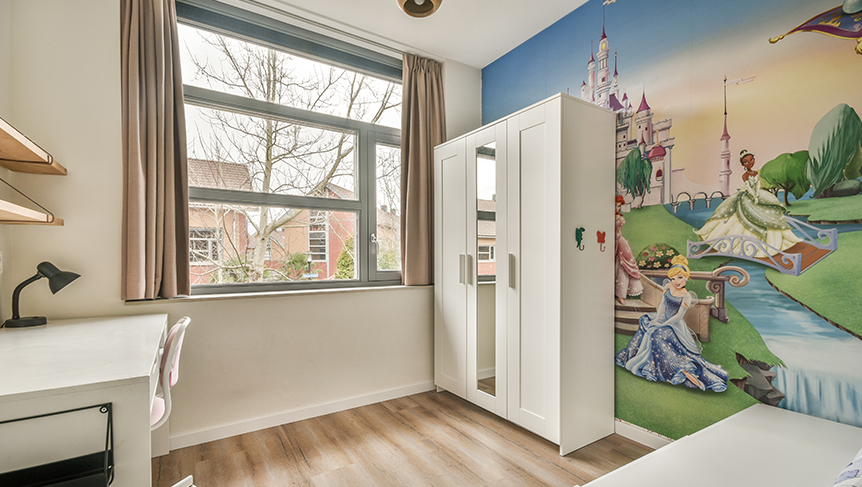 Cartoon characters have a special allure for young kids. They look to them for both amusement and inspiration. To encourage your child's imagination and make them feel like they have a friend in their room, design their wardrobe with pictures, doodles, or sketches of their favorite cartoon character.
3. Mix & Match Hues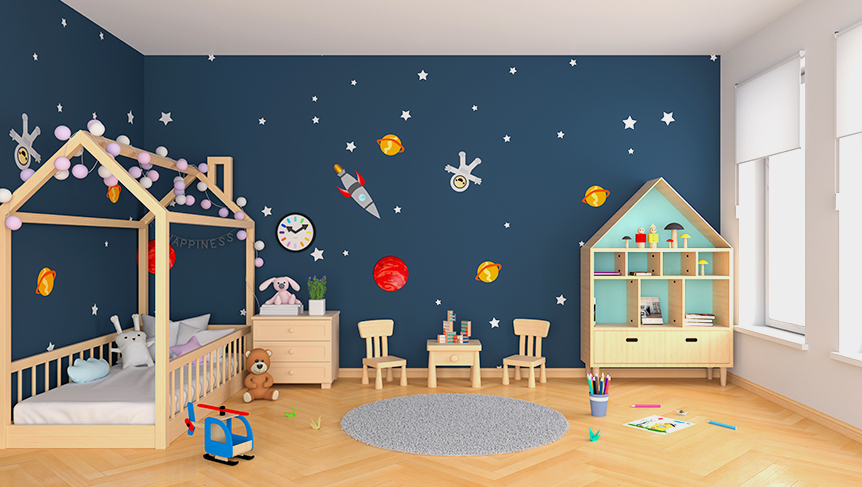 When entering a kid's bedroom, expect some degree of chaos! When designing a wardrobe with our innovative kids' room interior designers, feel free to experiment with different color combinations.
Contrast and combine hues throughout the wardrobe design. Feel free to make use of a wide range of hues. At a young age, exposure to a variety of colors can have a positive impact on a kid's cognitive development.
4. Thematic Designs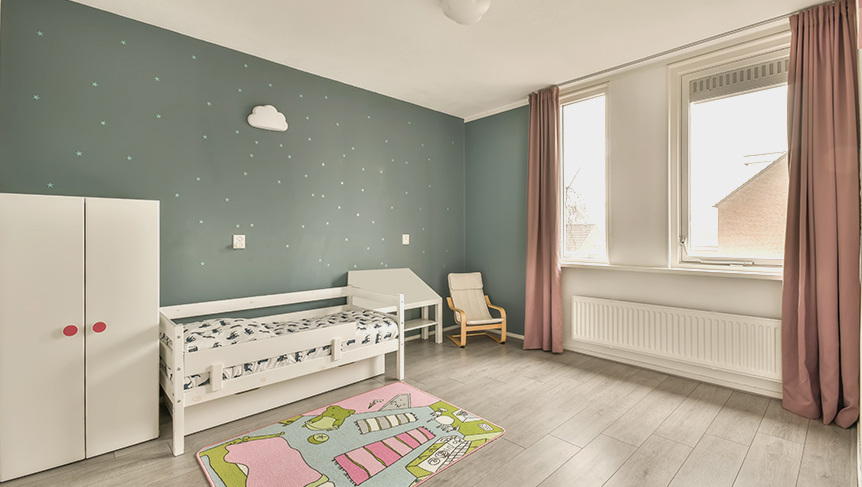 Would you like to jazz up your kid's room? Use a thematic concept as an inspiration for your kid's wardrobe design. You might go with a lego-inspired design, or pick from a wide range of pop culture-inspired options. Your youngster can gain a taste for aesthetics and organize with the help of a themed wardrobe.
5. Sliding Adventure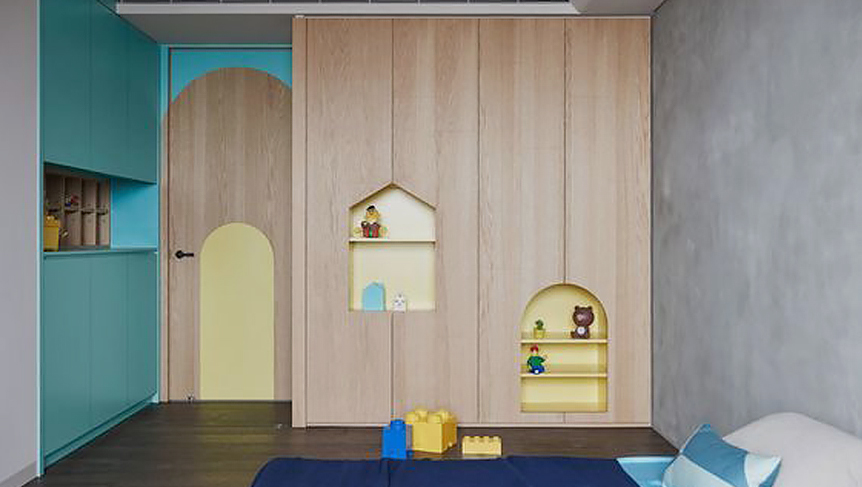 Kids, like us, appreciate design on more than just an aesthetic level. They also enjoy having a different tactile aspect to experience. So why settle for the same regular wardrobe with doors every time?
When it comes to sliding doors, they are swift and easy to operate and don't take up too much space.
Sliding wardrobe designs in kids' rooms are more amusing and novel than traditional cabinetry, so kids are less likely to view reaching their belongings as a burden.
6. Fun With Handles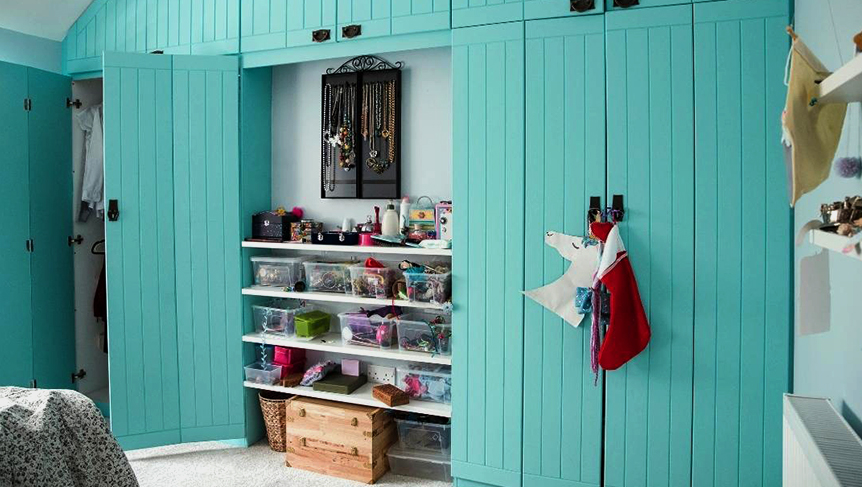 Add some flair to the wardrobe handles! For a kid's wardrobe, you can forego the standard door knobs and pulls. Of course, they serve a purpose, but every once in a while you need a change. Alternatively, you may choose cool, modern, and offbeat handles that your little one will adore.
7. Sleek & Classy

A contemporary wardrobe design would be great for a teen or older child who prefers a modern style wardrobe. That doesn't rule out the use of color, though. Our quirky child bedroom cupboard designs still play around with style while keeping them sleek, classy, and functional.
Why do you need a unique design for a kid's wardrobe?
Kids are unruly and can make a huge mess in their own bedrooms. It's necessary to have a place to store the whole chaos. They are far less inclined toward staying organized. So why not do it in a fun way?
Amazing and one-of-a-kind wardrobe designs, might help them overcome this inner drive to create a mess and spark their interest in keeping their belongings neat and tidy.
The kids' room interior designers in Navi Mumbai at SpaceEdit Studio have handpicked this collection of exciting and novel kid's wardrobe designs for your kids' room. Comment on this and tell us what you think! If you want to contact us, just shoot us an email. We eagerly anticipate your response!