5 Reasons Why You Should Go For Modular Kitchen Interior Design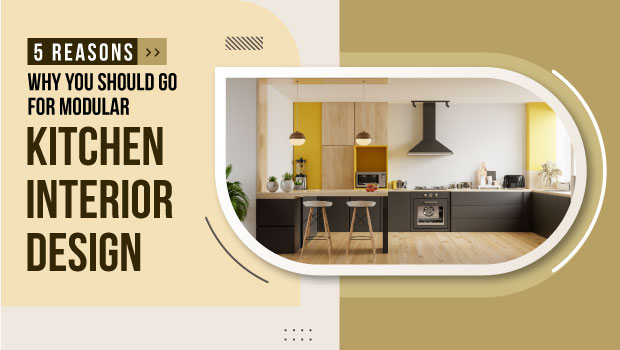 Cooking is an art and you are the culinary artist who needs inspiration. A beautiful, systematic, and functional kitchen interior design is required to have an enjoyable cooking experience. Every Indian spends a significant amount of time in the kitchen preparing healthy and delicious meals for their family. 
Therefore, a well-organized and alluring kitchen can make their tasks easier, faster, and more pleasant. And so, modular kitchens have become a necessity in every home. But, what exactly is a modular kitchen? 
A modular kitchen is a kitchen layout that consists of cabinets with different sections to hold different items. Then there are floor cabinets and wall cabinets to maximize space in a small kitchen and can be customized to fit any style or size. A modular kitchen not only saves space and time, but also adds creativity and aesthetic value to the kitchen by combining different themes, colors, and sizes. 
Modular kitchen interior designs are so appealing that every homemaker wishes to own one. The interior designers in Navi Mumbai can help you revamp your simple and boring kitchen into a stunning and more functional modular kitchen. 
Let's proceed along to know the reasons why you should absolutely go for kitchen interior design.

Modular kitchen cabinets and layouts are segmented and designed to hold various kitchen utensils and items in order to make life in the kitchen more systematic and convenient, saving time and effort. 
You can keep different things in various cabinets on the floor and on the wall in the kitchen. A modular kitchen can be designed to fit any style, including gallery, U-shaped, L-shaped, island, and peninsula kitchens. Read our blog Your Ultimate Guide To Modular Kitchen Interior Designs to know which layout suits your kitchen space.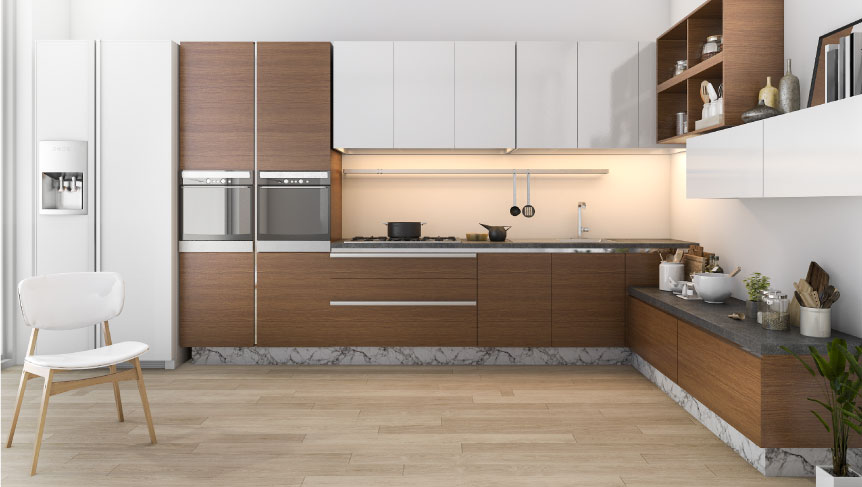 In an Indian household, there are normally joint or big nuclear families with different food preferences. As a result, the kitchen is filled with various smells, flavors, and vessels used to meet all of their needs. It may leave a large mess to clean up.
Keeping this in mind, a well-thought-out Indian modular kitchen interior design is required. 
SpaceEdit Studio is one of the best kitchen interior designers in Navi Mumbai, offering unique and modern kitchen designs. 
The designs include sleek and ergonomically designed shelves and cabinets for your kitchen.
Space Edits' modern kitchen interior design ideas are not only great for keeping your kitchen organized, but they also give your kitchen a stylish look. Furthermore, they slide out smoothly, allowing you to work effortlessly.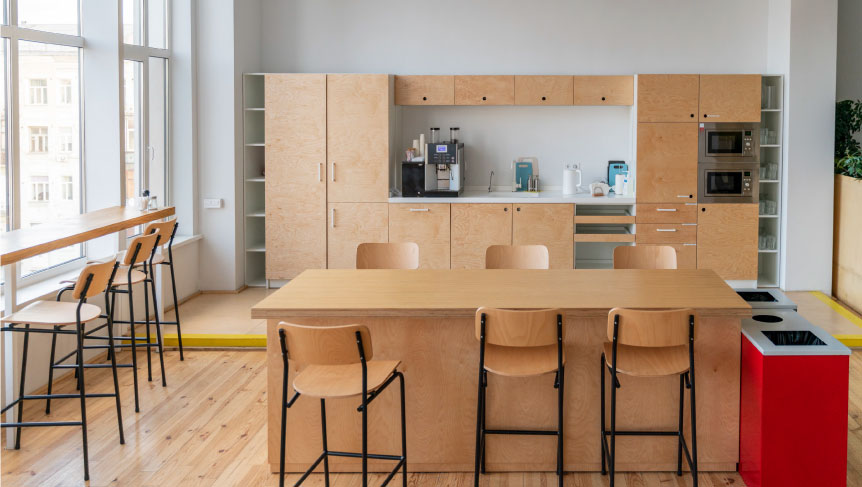 The modular kitchen interior designs by SpaceEdit provide a great deal of flexibility. 
Traditional kitchen fixtures, such as a wall shelf or an antique glass cabinet, are typically pre-installed. 
These are not ideal for storing all of your kitchen necessities, nor do they blend with the rest of your home's decor.
The cabinets in the modern modular kitchen design can be measured and made to fit right based on your kitchen floor plan. 
SpaceEdit Studio can customize the interiors of your modular kitchen based on your convenience, storage space, design preferences, layout, accessibility requirements, and even color preferences.

Cost-Effective & Easy To Maintain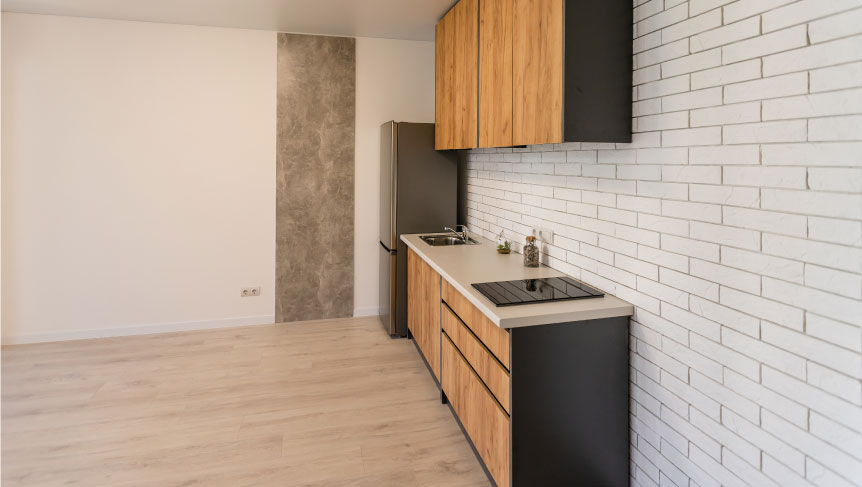 One of the core advantages of a modular kitchen is that it is assembled with pre-fabricated components that are simple to assemble and dismantle as needed. 
Installing a modular kitchen is much more cost-effective than a traditional kitchen with drawers and cabinets all made by a carpenter. The modular kitchen racks and drawers are available in different qualities to fit your budget. 
SpaceEdit provides modular kitchen interior design ideas that are contemporary as well as practical to give a pleasant experience to the clients. 
Modular kitchens are also easy to maintain. The drawers can be conveniently removed for cleaning purposes.  Modular kitchen prices in Navi Mumbai can fit your budget and allow you to have a modern kitchen.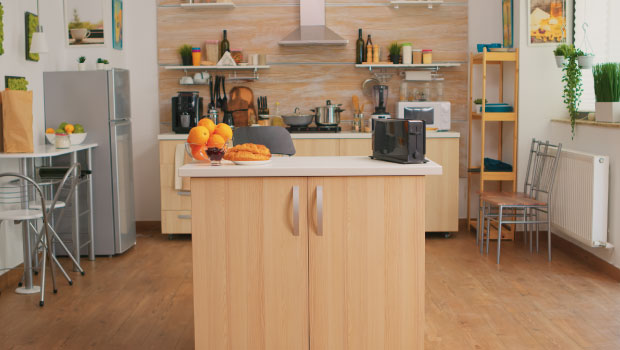 Modular kitchens are marked by their trendy and modern looks. 
Today's modular kitchens are undoubtedly appealing, with modern kitchen accessories such as:
pegboards, 
splashbacks, 
pull-outs, lift-ups, 
tandem drawers, 
larder units, 
and glossy finishes. 
Smart assembly of modular kitchen accessories by SpaceEdit Studio can create a great design for your kitchen that is not only stylish and sleek but also functional.
Furthermore, you can choose an eye-catching color palette for your kitchen interiors from a diverse range of shades suggested to you by the expert interior designers at SpaceEdit Studio.
Kitchen Decoration Accessories To Adorn Your Modular Kitchen
There are numerous kitchen decoration accessories that can be used to give a dapper look to your modular kitchen. These accessories will add a touch of aesthetics to your modular kitchen making it a piece of envy for your neighbors. 
These kitchen accessories may include stylish utensil holders that will give a fancy and classy look to your modular kitchen.

Lighting is another way to make your kitchen stand out and offer something innovative. 

You can hang pendant lamps in the corners or establish a counter where you can place hanging lamps or lights that blend with your modular kitchen interior.

You can also use a dish rack to add an element of style to your modular kitchen.

A wooden dish rack will perfectly match your newly made kitchen. 

It will be an ideal accessory to showcase your lovely coffee mugs and classy platters.  
Finally, we can say that modular kitchen designs allow for better storage, functionality, and appeal. Modular kitchen design and accessories allow you to customize your kitchen based on your needs, available space, and budget. 
These are not only easier to maintain but also offer a pleasant experience while cooking. So it's no surprise that modular kitchens are so popular these days. So, why wait now? Get in touch with the experienced interior designers at SpaceEdit Studio and have your dream kitchen!